An innumerable amount of personal information is shared every day and all the cybercriminals want access to it. Unfortunately, they're succeeding because many organizations, big and small, have fallen victim to data breaches and allowed personal information to be exposed.
Still, some organizations aren't taking these security breaches seriously. Some will wait until it happens before doing something about it and that's just not good enough.
The truth is, all organizations can do better.
It's a privilege to receive personal information from someone because you rely on it to keep your organization running. So, how is your organization going to keep this information safe?
You can start by being compliant. The answers are in the rules.
If you're a professional working in the healthcare, accounting, legal, or insurance industries, you're likely very aware of the importance of HIPAA and PIPEDA compliance. Here's a quick summary of both laws and what they require in terms of safeguarding data:
HIPAA
Stands for the Health Insurance Portability and Accountability Act
Mandated to protect the privacy of the personal information of patients in the USA
An administrator must provide proper staff training and have complete control over who has access to information
There must be restricted access to the data facilities and devices that store private information
Proper cybersecurity measures must be enforced to prevent breaches of information
PIPEDA
Stands for the Personal Information Protection and Electronic Documents Act
Regulates how private-sector organizations collect, use, and disclose personal information in for-profit or commercial activities in Canada
Personal information must be protected in a way that's appropriate to how sensitive it is
Regardless of how the information is stored, information must be protected from unauthorized access, use, disclosure, copy, or modification
Under both acts, it's stated that organizations are responsible for ensuring the continual enforcement of proper and up-to-date security measures for protecting personal information.
Looking for a way to share and store files securely? You can trust TitanFile.
TitanFile is 100% HIPAA and PIPEDA compliant
With the integration of TitanFile into your organization, you'll have instant access to features that make you more compliant:
1. Security and storage
TitanFile is committed to providing the most secure file sharing and collaboration platform for its clients by employing industry-recognized best practices:
Encryption – Files and messages sent through TitanFile are encrypted with 256-bit encryption before they enter transit and will remain encrypted once they reach their destination. With end-to-end encryption, only the sender and the recipient will have access to the encryption keys to access the files.
Two-factor authentication (2FA) – Much like how we use two-factor authentication to verify our access to our bank accounts and work emails, TitanFile implements the same technology as an extra layer of protection for TitanFile clients and their recipients. When 2FA is enabled, phone verification is required for access to confidential information share through TitanFile.
Certified data centers – For safe storage of sensitive information, TitanFile uses Microsoft Azure and AWS data centers in the US, Canada, and Europe which are stored in highly secure facilities. TitanFile clients choose which of the three locations their data resides.
2. Auditability
TitanFile integrates audit logs to ensure that you have complete control of activity around files and messages. Audit logs record when users access their accounts, when files and messages are delivered, and when files are accessed. Logs and email delivery reports are available for download.
Related | More about audibility and compliance.
3. Administrative Control
TitanFile lets subscription administrators manage and all users under the same subscription — allowing administrative control over who has access to information as required by HIPAA and PIPEDA.
4. Data retention policies
When information is no longer useful, there should be no reason why it's still in storage and face the risk of unauthorized exposure. TitanFile clients can set their own data retention policies so that files and communication threads expire automatically and the information is deleted.
Want to adopt TitanFile and improve compliance with HIPAA and PIPEDA at your organization?
Share files and messages

securely

with TitanFile!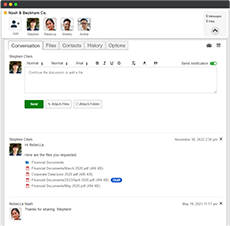 As easy to use as email for staff and clients
Lightning-fast upload speeds
Send files of any size. No storage limitations
Try TitanFile Free