TitanFile will showcase how its platform can help accounting and finance professionals improve security, compliance, and efficiency around file sharing while providing an exceptional client experience.
TORONTO, ON – November 21st, 2022 – TitanFile Inc., a leader in secure file sharing serving accounting firms, financial service providers, law firms, healthcare providers, and government organizations, today announces its attendance at Accountex Canada 2022 to its showcase revolutionary secure client portal for accounting and finance professionals.
Accountex Canada 2022 is a networking and educational event for professionals in the accounting and finance space. The event will feature 34 educational sessions with world-class speakers and networking opportunities among more than 1000 attendees. TitanFile will hold a booth in the event's exhibitor hall to help improve file sharing in Canada ahead of the upcoming tax season. Accountants and financial professionals from across North America currently use TitanFile as a self-serve secure client portal for sending and receiving confidential documents and messages all year round. The tool has enabled these professionals to improve security, compliance, and turnaround times around file sharing.
"We're far past the days of having clients hand-deliver packages to the office, or transferring files by email," stated Tony Abou-Assaleh, President and CEO of TitanFile Inc. "As we approach the busiest time of the year for accounting and financial professionals, we want them to be equipped with a more secure and efficient way to collaborate with clients. Our platform provides a seamless way for accounting firms and financial service providers to share confidential data and messages with their clients through a secure client portal while keeping information organized."
TitanFile has been consistently rated as the most secure file-sharing platform by many publicly available security rating sites including the Security Scorecard. Over the last 16 months, TitanFile has achieved 4 globally-recognized certifications which include SOC 2 Type II, ISO 27001, ISO 27017, and ISO 27018. These certifications are the gold standard in information security today and serve as attestations to the maturity of TitanFile's information security management practices.
About TitanFile
TitanFile is an award-winning secure file-sharing and client collaboration platform. TitanFile is as easy to use as email, resulting in increased efficiency, cost savings, and higher customer satisfaction while providing world-class security and compliance. The TitanFile platform is comprehensive and supports diverse use cases and workflows such as secure file sharing, group collaboration, customer-initiated workflows, secure distribution lists, shared mailboxes, and committee work. TitanFile's clients range from national enterprises providing financial, insurance, and legal services, to government agencies and regulatory bodies, to small businesses. For more information, please visit www.titanfile.com or call us at 1-855-315-6012.
Media Contact
Name: Joakim Rodrigues
Email: press@titanfile.com
Press kit: https://www.titanfile.com/press-kit/
Share files and messages

securely

with TitanFile!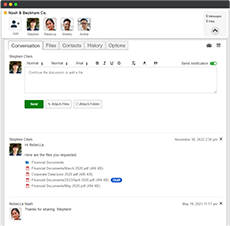 As easy to use as email for staff and clients
Lightning-fast upload speeds
Send files of any size. No storage limitations
Try TitanFile Free