Secure File Sharing was the last TLOMA Technology SIG of the year and TitanFile is honoured to be chosen as the organizer and presenter of the most sought-after event of the year. The two-hour session gathered a large crowd, leaving no unfilled seats at the event. The lunch and learn, which was sponsored by TitanFile, established a magnetic connection between the presenters and the audience through thoughtful discussions, engaging content, and insightful idea exchanges.
Hosted at Goodmans LLP in Toronto, TitanFile's experts of file sharing, Tony and Victor Abou-Assaleh, offered an excellent line-up of insightful and exciting subjects for the diverse crowd of legal professionals.
Weren't able to make the session? That's okay! Here is a round-up of the sold-out Secure File Sharing session:
Benefits of Secure File Sharing
Increased productivity
Conventional methods of file sharing currently include Courier, Secure USBs and CDs, and FTP. However, these methods are cumbersome, difficult, slow and require extensive support from the firm's help desk. This causes some legal professionals to resort to unsecured methods of file transfer, such as personal Dropbox accounts and personal email.
Secure file sharing will solve both problems by making it simple, easy, and fast to send files and messages back and forth between collaborators. By removing the time required for transferring information and making the process self-serve, professionals will decrease their workaround time and increase productivity.
Increased client trust
It is well-known that trust is developed over time through repeated positive experiences with a client. Adopting a solution that makes collaboration as easy to use as email makes clients love to work with you time and time again. A solution that features unparalleled security also communicates to clients that you are investing in the best tools to ensure the protection of their personal data. It is this trust that will allow you to stand out from competitors.
Saves time and money
Courier costs, USB and CD costs, and extra Help Desk labour are all expenses that firms incur by not updating to an intuitive secure file sharing tool. Slower workaround periods also result in time lost, and time lost is money lost. Using an intuitive file sharing solution that is easy to use, self-serve, and sends files securely and quickly will save all that time and money.
How does this work in a real-life legal environment?
Large File Transfer
Example: Litigation
In litigation, legal professionals must collaborate with experts, opposing counsel, and clients when exchanging information in a case, sometimes reaching 20GB per file. Keeping track of all the sent USBs and DVDs through Courier is difficult without a centralized vault of information.
In TitanFile, lawyers are able to communicate with all collaborators in one channel or multiple individual channels, sending large files and documents at high speed. Collaborators can respond instantly because TitanFile works on any browser, follows the same workflow as email, and is easy enough to use by any external party.
Secure File Transfer
Example: Personal Injury
Medical records must be sent back and forth between insurance companies, independent medical assessment, and the client while following mandatory security requirements, such as HIPAA and PIPEDA. TitanFile's platform is a compliant solution that allows for easy collaboration between the three parties
What are the top 10 features that I need for my secure file sharing solution?
Easy to Use
You can always train your internal employees on how to use a product, but you can't train your external users and collaborators. Your solution must be as easy to use as email so your clients do not feel like it is cumbersome to communicate with you and fall back onto easy to use, unsecured methods of file sharing.
Large File Transfer
The larger the better! Clients may have to send files of all sizes and being able to provide them with this availability sets you apart from the pack.
Performance
Has to get the job done! Find a solution that is reliable, quick to use, and does everything quickly. TitanFile's file upload speed is 150/Mbps. Talk about lightning-fast!
Outlook Add-In
Outlook is used everywhere and by everyone to send just about everything with all of your pre-saved contacts. A solution that allows you to incorporate easily with Outlook makes it a piece of pie to use.
Security
Guarding your information and your clients' information should always be your number one security. Trust is built in no better than this.
Authentication
Relating back to security, you and your clients want to know that the right information is going to the right eyes.
Data Residency and Retention
Your clients want to know that their data is in a secure place, and depending on who you collaborate with, it may be of high priority that your data has a retention policy. Put yourself and your clients data first by ensuring your solution has this information for you.
Notifications and History
Know who is accessing your files, who is viewing them, and when it happened. Your solution must put you in the driver seat of your data and information.
DMS Integration
Just as with Outlook, your solution must integrate with your DMS for an easy transition your IT department will love.
Export Anything in 1-Click
Who has time to download files individually? Your solution should be so easy to download everything from files to conversations to history that backing up your data is a walk in the park.
What 4 Things Should I Evaluate Cloud Vendors On?
Infrastructure
A cloud vendor must have the infrastructure in place to support large file transfers and store all client data. Their system must be able to allow fast upload speeds to limit downtime. Ideally, their data centre must have a backup in case of emergency.
Application
The application must warrant unparalleled security in order to protect all confidential data while merging seamlessly with all existing applications. The application must offer the best service possible and a wide range of features to suit everyday needs.
Policies
A cloud vendor must comply with a variety of rules and regulations expecting of legal professionals and/or medical professionals that guarantee the safety of client data and meets the guideline of proper data handling.
People
The application must be easy to roll out firm wide in order to decrease onboarding time and for smooth adaptation. Therefore, your vendor must be usable on all forms of browsers, require little to no setup time, and has the ease of use that allows external users to pick up the platform without the need for onboarding.
Interested in checking our future sessions and webinars? Stay up to date by following our News and Events where we announce future webinars and events.
For more information on TitanFile and why we are the best secure file sharing solution for professionals, check out our reasons here.
Share files and messages

securely

with TitanFile!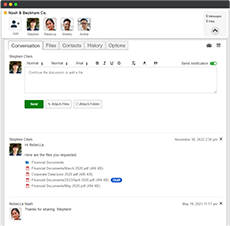 As easy to use as email for staff and clients
Lightning-fast upload speeds
Send files of any size. No storage limitations
Try TitanFile Free