According to ComputerWorld, around 39 percent of corporate data that is uploaded to the cloud is related to file-sharing applications. However, not all cloud file-sharing solutions are created equal.
Finding a trustworthy and secure file-sharing solution is essential whether you're an individual wishing to preserve personal information or a corporation needing to safeguard important data. It might be difficult to choose the platform that offers the best balance of security, features, and usability because there are so many options available.
To ease your search, we have carefully curated a list of the top 5 secure file transfer solutions that stand out from the rest.
These platforms prioritize the protection of your files, implement robust security measures, and provide user-friendly interfaces to ensure a seamless sharing experience.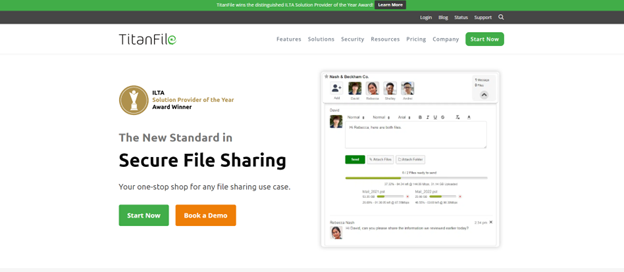 Key Features
Rated #1 in security
Large file and folder uploads
As easy to use as email
TitanFile Pricing
Individual package: $22 USD/month
Starter package: $16 USD/user/month (Minimum 2 Users)
Pro package: $24 USD/user/month (Minimum 2 Users)
TitanFile is consistently rated #1 in security according to leading security benchmarking sites such as SecurityScorecard. TitanFile emerges as a reliable and secure file-sharing software that caters to a wide range of users. With its diverse package options and a strong emphasis on data security, it offers an excellent solution for individuals, teams, and businesses seeking a secure file-sharing platform.
The platform employs robust encryption techniques to ensure that files remain protected during transit and at rest. Granular access controls and audit trails enhance security by limiting file access to authorized individuals only and providing time-stamped records of when files are shared, delivered, and accessed.
One of TitanFile's key strengths is ease of use. With an interface similar to email, professionals and their clients are able to use TitanFile on their own without any hand-holding. Professionals can collaborate seamlessly by exchanging files, folders, and messages with their clients while maintaining the utmost data security.
This year, TitanFile was awarded the prestigious ILTA Solution Provider of the Year Award which is a testament to its commitment to providing exceptional services to its clients. Give it a try and experience the peace of mind that comes with secure and efficient file sharing.
2. Resilio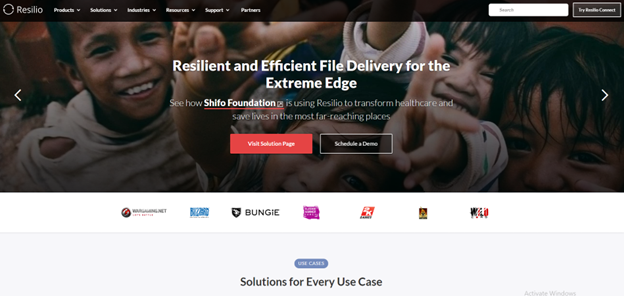 Key Features
Peer-to-Peer Architecture
Enhanced Security
Synchronization Capabilities
Resilio Connect Pricing
Sync Home PRO — $59.9 / One-time (Per Individual)
Sync Family PRO —$ 99.9 / One-time (5 Members)
Sync Business PRO — From $35 / Month (Business Use)
Resilio presents itself as a powerful peer-to-peer file-sharing software with a focus on security and efficiency. The peer-to-peer architecture enables rapid and direct transfers, eliminating the need for a centralized server.
One of the standout features of Resilio is its synchronization capabilities. The software allows users to sync files across various devices, enabling seamless collaboration and access to the latest versions of documents. This feature is particularly useful for teams working on projects where real-time updates and file availability are crucial.
However, it is worth noting that Resilio's user interface can be a bit overwhelming for new users. The software offers a wide range of advanced settings and customization options, which may require some time and effort to fully understand and utilize.
While this level of control can be appealing to power users, it may present a learning curve for those seeking a more straightforward file-sharing solution.
3. HighTail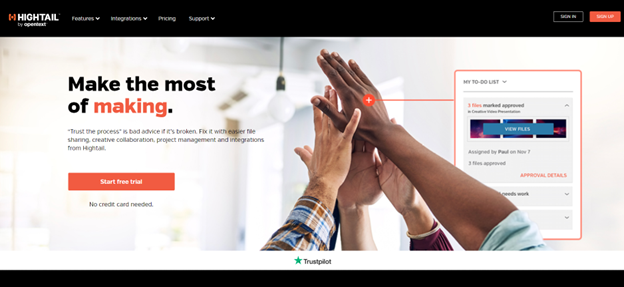 Key Features
File Sharing and Collaboration
File Preview and Commenting
Security and Access Controls
Hightail Pricing
Pro: $12 per user per month (billed annually)
Teams: $24/user/month (billed annually)
Business: $36/user/month (billed annually)
Hightail excels in providing a fairly seamless and secure file-sharing experience, making it a valuable tool for teams and businesses. The platform's user-friendly interface simplifies the process of uploading, sharing, and collaborating on files. The file preview feature enhances efficiency by allowing users to quickly access files without the need to download them.
One of the notable features of Hightail is the ability to leave comments directly on files. This feature promotes real-time collaboration and streamlines feedback, eliminating the need for lengthy email threads.
Additionally, the platform's security measures, such as password protection and access controls, provide users with peace of mind when sharing sensitive files.
It is important to mention that the pricing structure of Hightail may be a limiting factor for some users. While the platform offers a 14-day free trial, the cost of the premium packages might be considered relatively high compared to other file-sharing solutions on the market.
This pricing structure may make it less accessible for individual users or small teams with limited budgets.
4. Tresorit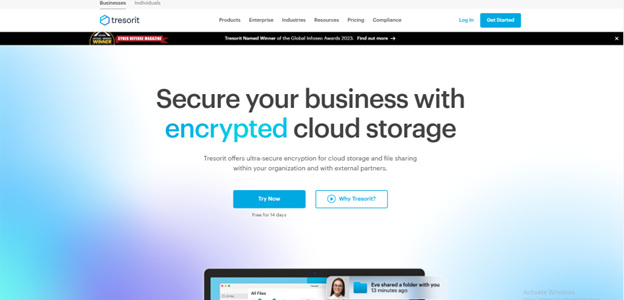 Key Features
End-to-End Encryption
Secure Collaboration
Remote Device Wipe
Tresorit Pricing
Business: $14.50/user/month (billed annually)
Business Plus: $19/user/month (billed annually)
Enterprise: Custom (billed annually)
Tresorit stands out as a robust and highly secure file transfer software. Its focus on end-to-end encryption ensures that files remain protected from potential breaches or unauthorized access. The secure collaboration features, including shared folders and access controls, make it an excellent choice for teams and businesses looking to share and collaborate on sensitive files.
The Solo package provides essential features for individual users, while the Business package offers scalable solutions tailored to specific organizational requirements.
One aspect to consider is that Tresorit's security measures, while robust, can sometimes result in slower upload and download speeds.
The encryption and decryption processes may introduce a slight delay, particularly when working with large files. However, for users who prioritize security over speed, this trade-off may be acceptable.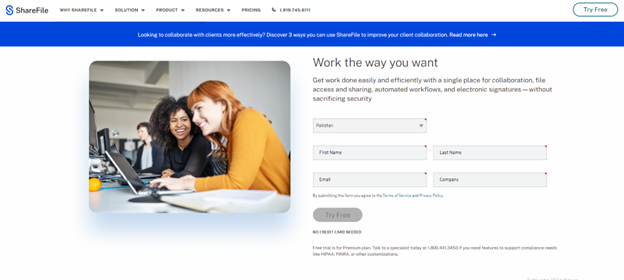 Key Features
Seamless Collaboration
Integration Capabilities
Robust Security Measures
ShareFile Pricing
Standard: $50/month (5 Employees)
Advanced: $80/month (5 Employees)
Premium: $125/month (5 Employees)
Particularly for organizations and teams, Citrix ShareFile stands out as a reliable and secure file-sharing solution. Through its access controls and encryption mechanisms, the platform clearly places a high priority on security, giving users confidence when exchanging important material.
Teams can interact successfully and efficiently because of the seamless collaboration features, which include real-time document editing and versioning.
One aspect to consider is that ShareFile's pricing can be relatively higher compared to some other file-sharing solutions in the market.
While the platform offers a comprehensive set of features, the pricing structure may pose a challenge for smaller businesses or individuals on tighter budgets. It is recommended to carefully evaluate the specific needs and budget of your organization before committing to a pricing plan.
Which Solution Do We Recommend?
Among these secure file-sharing solutions, TitanFile stands out as the best option. It offers versatile package options to cater to different user needs and budgets.
Strong security measures, including robust encryption, a range of use cases, and access controls, ensure the protection of sensitive files. TitanFile's recognition as the ILTA Solution Provider of the Year Award Winner speaks to its excellence in security, innovation, and customer service.
Share files and messages

securely

with TitanFile!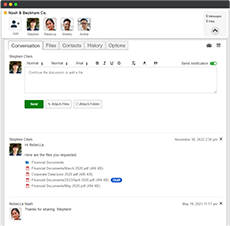 As easy to use as email for staff and clients
Lightning-fast upload speeds
Send files of any size. No storage limitations
Try TitanFile Free