If you're a professional in the government, accounting, or finance industry – the need for secure file-sharing is not unknown to you. In fact, you may even be using a file-sharing method currently to exchange confidential data with clients. Whether you're sharing PDFs, Word, Excel or 400+ different file types, it's important to have a secure method of doing so. Luckily, multiple types of file sharing exist.
In this article, we'll explore the different types of file sharing, from traditional and outdated to modern, so you can find the best option for your business needs.
Definition of File Sharing
File sharing is the exchange of files between two or more computer users over a network. It distributes and provides access to digital media, such as multimedia (audio, images, and video), documents, and e-books. There are several methods available to make sharing files possible – some more secure than others.
Let's break down which methods are the easiest, fastest, and most secure.
File Sharing Methods
From cloud storage to peer-to-peer networks, the possibilities are endless when it comes to sharing your files. Here are some examples of file sharing methods:
1. Email
Email is a common and simple file-sharing method. It's been around for decades and allows users to send and receive files quickly and easily. The lack of additional software required to use Email makes it very user-friendly for non-technical users.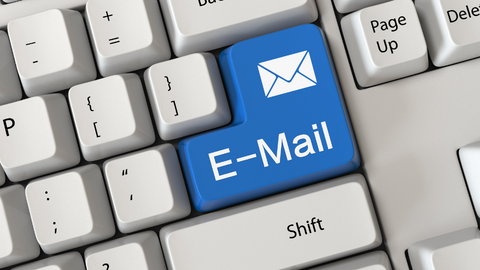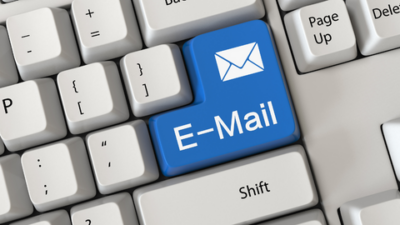 However, it can become problematic when users need to share large files. Email file size limitations restrict users' abilities to send files over 25 MB. For reference, 1GB is made up of 1000MB. If you've ever used cellphone data, you know how little that really is. Additionally, all information sent over email is non-secure since it is not encrypted. Cyberattackers can easily intercept a document as it's traveling between systems.
2. Courier
Courier file-sharing is the process of sharing files via postage. A USB or physical document is shipped with a courier service that delivers it to the recipient by air or ground.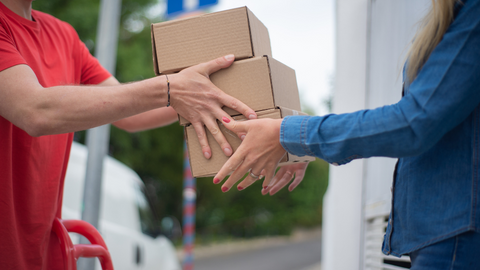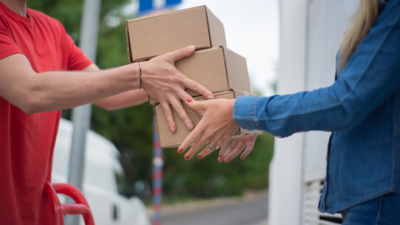 When it comes to security, using couriers is a controversial topic. On one hand, it can be more secure than email because the files are physically transported by a courier service and are often tracked and monitored. On the other hand, courier services involve human interaction which means human error is at play. Oftentimes, documents are lost, stolen, or misplaced via courier which can be detrimental to the security of your information. If your documents are time-sensitive, it is inconvenient as it takes longer than instantaneous electronic file-sharing methods.
3. Fax
Does your office have a Fax machine or is it modern? Fax is a traditional file sharing method used to send documents quickly and securely. Faxing works by encoding a document's content before delivering it to the receiving fax machine. The data sent is then decoded by the receiving device and subsequently printed on paper.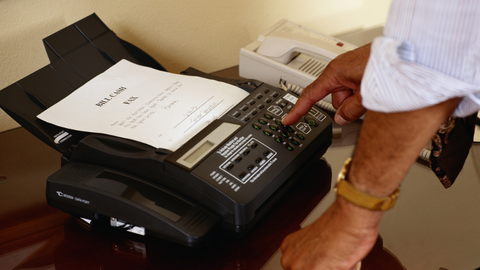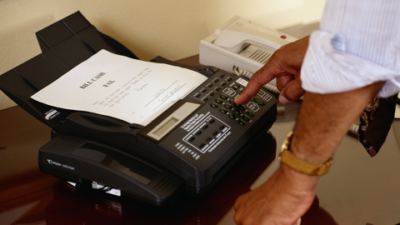 Technology has advanced past the need for faxes – the machine invented in the 1960s. Not only is faxing expensive due to high maintenance costs (i.e. inc, toner, paper) but it requires a landline phone number which most modern offices and homes no longer possess. Additionally, the recipient of your documents must own a fax machine as well which is not likely. For more secure and modern file sharing, there are better types of file sharing.
4. Secure File Transfer Protocol
Secure File Transfer Protocol (SFTP) has been used by lawyers for over a decade. SFTP works by creating a secure connection between the client requesting files and the SFTP server. Files are then encrypted and transferred to the client. The key benefit is encryption – all files are encrypted to ensure their integrity and prevent unauthorized access. SFTP is also reliable and designed to be robust and secure while ensuring that data is sent without corruption or errors.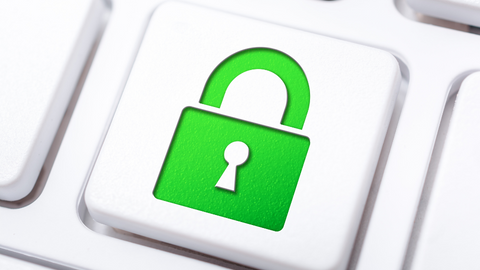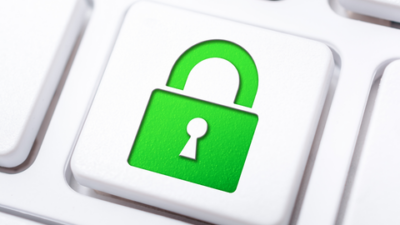 Although. SFTP is secure, it can be difficult for non-technical users. Validating and managing SSH keys to access the remote host and documents is not a simple task. Even for IT staff, it is not simple or fast. Unfortunately, SFTP can also be slow when sharing large files or a large number of files. Lastly, communication is binary and if you require real-time communication with clients, this option may not be the most modern.
5. On-Premise Software
On-premise software is installed and managed on a company's local servers or computers which allows users to securely store and share files while providing access control and other security features. If your company has strict policies for information security, on-premise provides more control over compliance and data security practices. Unlike other options on this list, on-premise software is not reliant on an internet connection so if a network error occurs, your ability to share documents will not be affected.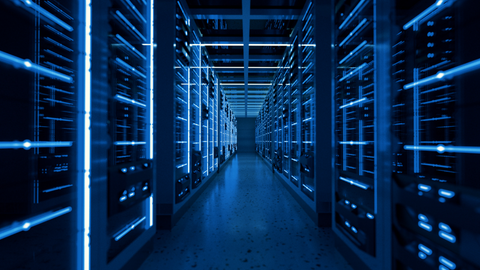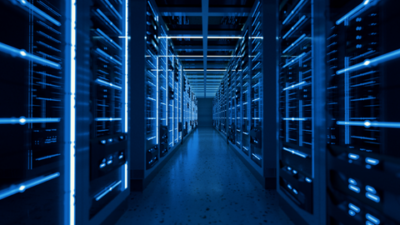 However, security comes at a cost. Since on-premise servers are managed by you, there will be upfront costs such as investing in physical assets, security, and IT teams. These systems also require routine software maintenance, manual or semi-automated backups, and updates. For file-sharing with reduced cost and top-tier security, cloud-based file sharing may be the solution for you.
6. Cloud-Based File Sharing
Cloud-based file sharing enables you to upload, store, and share files on remote servers hosted by a third-party vendor. It is considered one of the most secure file-sharing methods present day and is highly utilized by companies globally. Since data is hosted on the cloud, users can access files from anywhere in the world – making file sharing very accessible. Additionally, companies save money with cloud-based storage since there is no need for investing in physical infrastructure or maintenance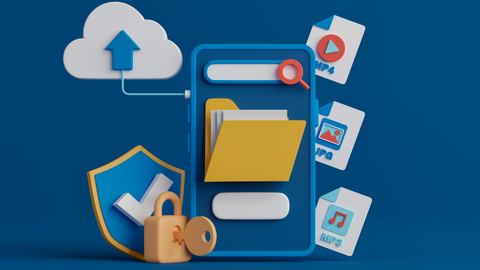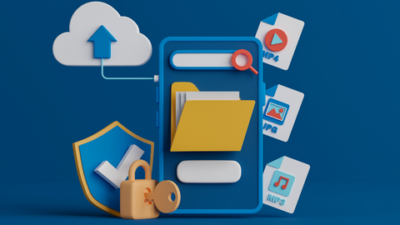 There are several reputable cloud-based file-sharing software on the market today. Deciding which one is best for you can lead to the paradox of choice. Luckily, we've broken down the best file sharing software of 2023.
Advantages and Disadvantages of File Sharing
Are you unsure of the potential risks and rewards of sharing files with others? Here are the pros and cons of file sharing:
Advantages
Access and share files with other users quickly and easily, speeding up collaboration and communication.

Effective for storing and sharing large files

A cost-effective way to share documents and resources, as many services are free or have low-cost subscription fees.
Disadvantages
File sharing can put you at risk of downloading malicious software, spyware, and viruses.

Certain methods can be slow and unreliable, particularly for large files or when multiple users are sharing the same file.

There is the potential for copyright infringement when using some file-sharing services.

File-sharing services may not offer the same level of security as other cloud storage solutions, leaving your data vulnerable to unauthorized access.
Finding the best file-sharing method for your business can be daunting. Luckily, there is software that has been developed with both the user experience in mind and security at the forefront. TitanFile is an excellent cloud-based file-sharing solution that enables you to exchange files of all sizes and types easily and securely with clients.
Files are automatically encrypted in transit, at rest, and end-to-end for secure file transfer that protects against outsider threats. TitanFile is SOC 2 Type II, ISO 27001 certified, and HIPAA, PIPEDA, and GDPR compliant to meet the security standards of IT and clients.
TitanFile is available on mobile, desktop, and tablet for secure file sharing anywhere in the world. The platform is considered as easy to use as email for the more non-technical users out there. With the fastest upload speeds on the market, there's never been an easier, faster, or more secure way to share files online securely. Try a free 15-day trial of TitanFile today!
Share files and messages

securely

with TitanFile!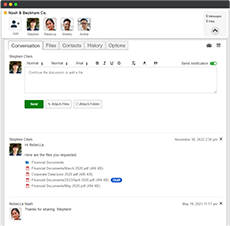 As easy to use as email for staff and clients
Lightning-fast upload speeds
Send files of any size. No storage limitations
Try TitanFile Free