Does your law firm use an encryption program for electronic communication and document exchanges?
The passing of Bill C-51 – known as the anti-terrorism act – stresses the necessity of secure file sharing software.
Backed in the House of Commons by Liberal and Conservative votes, the bill allows the Canadian Security Intelligence Service (CSIS) to exceed its previous information-gathering powers.
In doing so, government bodies and law enforcement agencies can access Canadians' private data and communications.
David Fraser, a privacy lawyer and member of TitanFile's board of directors, was interviewed by Canadian Lawyer Magazine about the act's impact on Canadian law firms.
Click here to read the article.
The interview discusses how secure file sharing software for lawyers can help keep case- and client-related information confidential in light of the new bill. It also demonstrates how law firms can proactively encrypt sensitive data.
This information is undoubtedly useful, even for legal firms outside of Canada.
>> With secure servers in Canada, the U.S., and Europe, TitanFile is a secure file sharing service that helps legal professionals protect confidential data. Contact us today to learn more.
Like this post? You'll also enjoy:
Share files and messages

securely

with TitanFile!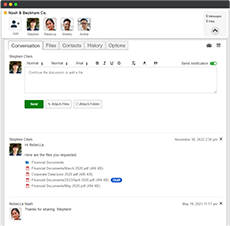 As easy to use as email for staff and clients
Lightning-fast upload speeds
Send files of any size. No storage limitations
Try TitanFile Free