This year, our team had the pleasure of sponsoring and exhibiting at the very first ILTA>ON conference! The event was held in a virtual environment from August 24th, 2020 – August 28th, 2020.
While it felt very different not attending ILTACON in person this year, our team had a blast at the virtual equivalent of the event! The ILTA team did an amazing job putting the event together.
Kicking off the conference
Stephen Carver, senior lecturer in the project and programmed management at Cranfield School of Management, kicked off the conference with an amazing keynote session on the topic of Leadership Under Stress: Exploring Project Failure at NASA. He exposed NASA's shortcomings in planning, procurement, leadership, and change management and connected them to failures and innovations in law firm technology projects.
We learned a lot from this session about some of the challenges law firms face today with legal technology and we'll certainly be innovating at TitanFile to help law firms overcome them.
And of course, the other keynote speakers and sessions were outstanding as usual!
Networking Opportunities
Although it was more difficult to network with attendees given the nature of virtual events, ILTA>ON offered many networking opportunities through activities such as watercooler chats, dedicated hangout rooms, and virtual wine tasting! We were able to connect with many attendees and have meaningful conversations about the future of the legal industry.
During the ILTA>ON, we also announced a major release of several new features that revolutionize secure client collaboration. Some of the features include support for e-signatures via Docusign, metadata scrubbing, and compatibility with document management systems. We were able to showcase these new features to people that visited our virtual booth.
Share files and messages

securely

with TitanFile!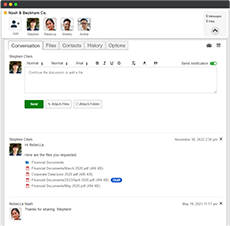 As easy to use as email for staff and clients
Lightning-fast upload speeds
Send files of any size. No storage limitations
Try TitanFile Free