The company's recent product update includes DocuSign integration, metadata scrubbing, and increased compatibility with document management systems.
TORONTO, ON – August 24th, 2020 – TitanFile Inc., a secure file sharing and client collaboration platform focused on the legal industry, announced several new features that improve client collaboration, privacy, and organized file sharing in law firms. Some of these features include support for e-signatures, metadata scrubbing, and document management system integration.
This year, TitanFile has helped dozens of organizations accelerate their digital transformation – including AMLAW 100 law firms. The highly-intuitive file-sharing solution enables attorneys, support staff, and their clients to collaborate securely from anywhere, at any time. While TitanFile is already equipped with state-of-the-art security and client collaboration features, the company has been continuing its focus on developing features that further prepare law firms for embracing the new era of client collaboration.
TitanFile's new DocuSign integration allows legal professionals to send documents securely and request signatures from clients and other external parties. After the documents are electronically signed, they are automatically reuploaded to the secure TitanFile platform – which provides 256-bit encrypted, and 100% HIPAA, PIPEDA, and GDPR compliant storage.
TitanFile has also added enhancements to its popular Secure Send Outlook add-in which enables secure file sharing directly through Outlook. The enhancements include integration with metadata scrubbing and sending and filing emails to document management systems. The metadata scrubbing integration removes metadata from files before they are sent to ensure that no unnecessary or potentially private data is shared by accident. The document management system integration will allow legal professionals to send and file encrypted emails and keep them organized.
"As a technology provider for legal professionals, we've witnessed first-hand many changes in the legal industry that have forced digital transformation in law firms. There is much evidence that there is a new era of client collaboration and it's here to stay,"

stated Tony Abou-Assaleh, President and CEO of TitanFile.

"This product update is a leap forward in client collaboration in the legal market beyond simple file sharing and we've already seen a very positive response from the industry."
TitanFile will be showcasing these new features at the first-ever virtual ILTA>ON conference which is being held on August 24th through August 28th. The team will also be available to meet with event participants and share best practices for secure client collaboration.
About TitanFile
TitanFile helps attorneys and support staff securely exchange files and messages with clients, experts, and opposing counsel. TitanFile is as easy to use as email, increasing staff productivity and simplifying client collaboration while improving security and compliance.
For more information, please visit www.titanfile.com, or call us at 1-855-315-6012.
Share files and messages

securely

with TitanFile!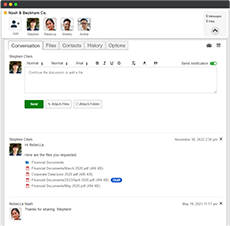 As easy to use as email for staff and clients
Lightning-fast upload speeds
Send files of any size. No storage limitations
Try TitanFile Free