As a healthcare professional, you are responsible for your patient's medical condition, privacy, and data security. Under the Health Insurance Portability and Accountability Act of 1996 (HIPAA), every patient is entitled to privacy and security. This includes all channels of communication between healthcare providers and patients.
Hence, HIPAA-compliant email is an essential tool for the healthcare industry. Today, we will talk about the best HIPAA-compliant email platforms for 2023.
What is HIPAA-Compliant Email?
When an email is protected in compliance with the HIPAA regulation, it is considered a HIPAA-compliant email. The regulation requires information to be encrypted in transit and at rest, and controlled with proper cybersecurity measures.
HIPAA-compliant emails are essential whenever confidential healthcare information is exchanged with patients, colleagues, or any outside parties. HIPAA secure emails allows fast, secure, cost-effective communication.
Unfortunately, stand-alone email platforms such as Gmail or Outlook do not provide the necessary features for HIPAA compliance. However, there are several HIPAA-Compliant Email providers for you to choose from.
Here are the best HIPAA-compliant email platforms; take your pick according to your organization's requirements.
1. TitanFile
TitanFile is an award-winning HIPAA-compliant email platform that enables healthcare service providers to easily send and receive confidential healthcare information.
When information is sent via the platform, you can trust that the information is protected with best-in-class security features such as 256-bit encryption, data residency in the United States, and granular access controls.
Healthcare providers choose TitanFile because of its ease of use not only for staff but also for patients and third parties, enabling quicker turnaround times for transfers of confidential documentation.
Best Features
Rated #1 in security
Easy-to-use web application
Accessible from any device, anywhere
Unlimited storage
2. Protected Trust
Protected Trust is a reliable source for encrypted and secure communication, instilling confidence in its users. It fully adheres to all HIPAA regulations, while its platform boasts a remarkably streamlined and user-friendly interface. One notable feature of Protected Trust is its fingerprint-secure app.
By utilizing the fingerprint-protected app, individuals can conveniently access their emails across multiple devices. The incorporation of fingerprint control enhances security measures and guarantees that only authorized personnel can access sensitive patient data. Additionally, Protected Trust facilitates encrypted email transmission through widely used applications such as Outlook and select Windows applications. The software also provides an effortless mobile app, further enhancing accessibility and data portability.
Best Features
Mobile app
Flexible accessibility
Fingerprint access control
3. Aspida Mail
Apsida Mail is highly favored by healthcare organizations due to its cost-effective HIPAA-compliant communication solutions and user-friendly interface. Its compatibility with various devices and applications enables seamless and rapid integration.
In addition to these benefits, Apsida Mail offers data backup disaster recovery and firewall protection. For those seeking guidance on achieving email HIPAA compliance, Aspida Mail is the optimal platform to enhance familiarity.
Best Features
Easy-to-use interface
You have the option of using both your or their domain
Highly compatible with existing applications
4. Paubox
Paubox stands out as one of the premier and highly secure email platforms, delivering robust email encryption solutions tailored specifically for healthcare businesses. Its extensive range of features includes email branding, archiving capabilities, secure email attachments, and a Business Associate Agreement (BAA). Paubox seamlessly integrates with popular productivity suites like G Suite and Office 365.
Furthermore, Paubox boasts a user-friendly interface, ensuring a smooth and intuitive experience for its users. The platform also prides itself on providing prompt and friendly customer support. However, it is important to note that Paubox does not offer a mobile app. Nonetheless, the platform offers a free trial, enabling users to thoroughly evaluate its features before making an informed decision about purchasing it at full cost.
Best Features
Works well with G Suit and Microsoft
Cross-device functionality
Paid users get free business associate agreements
5. Mail Hippo
Mail Hippo requires no configuration and can be set up within minutes, seamlessly integrating with existing email providers. With end-to-end encryption and secure data storage, Mail Hippo ensures the privacy and security of sensitive information.
It also allows users to track authorized access, including IP addresses and timestamps.
Best Features
It's user-friendly
Compatible with all email platforms
It offers storage and allows you to send large files
6. NeoCertified
NeoCertified is a leading provider of HIPAA-secure email solutions, offering a range of features to ensure the privacy and security of sensitive information. Its platform includes end-to-end encryption and secure message delivery, safeguarding confidential data.
eoCertified enables users to send encrypted emails, securely share files, and track message activity for compliance purposes. With a focus on HIPAA regulations, NeoCertified provides healthcare organizations with a reliable and secure communication channel to protect patient information.
Best Features
Compatibility with Google and Outlook
Commercial security solution
Easy access and compatibility with mobile devices.
7. ProtonMail
ProtonMail is a secure email service that prioritizes user privacy and offers features aligned with HIPAA-compliant email communication. It utilizes end-to-end encryption, ensuring that only the intended recipients can access the content of the emails. ProtonMail operates with a zero-access architecture, meaning that even the service provider cannot read the emails.
To provide HIPAA-secure email, ProtonMail offers features like two-factor authentication, which adds an extra layer of security to user accounts. It also includes email expiration, allowing users to set a specific timeframe for email accessibility. In addition, ProtonMail provides secure message forwarding and password-protected emails for enhanced privacy.
Best Features
Gives access to the anonymous email account
Provides extra safety with services in Switzerland
Provides open-source code
Conclusion
Whenever you're sending confidential patient information, it is essential to comply with HIPAA. With the above-mentioned HIPAA-compliant email platforms, you can make your communication channels secure without any hassle.
Send forms, patient information, appointment details, and case history without worry and with full security through these HIPAA-compliant email platforms.
Share files and messages

securely

with TitanFile!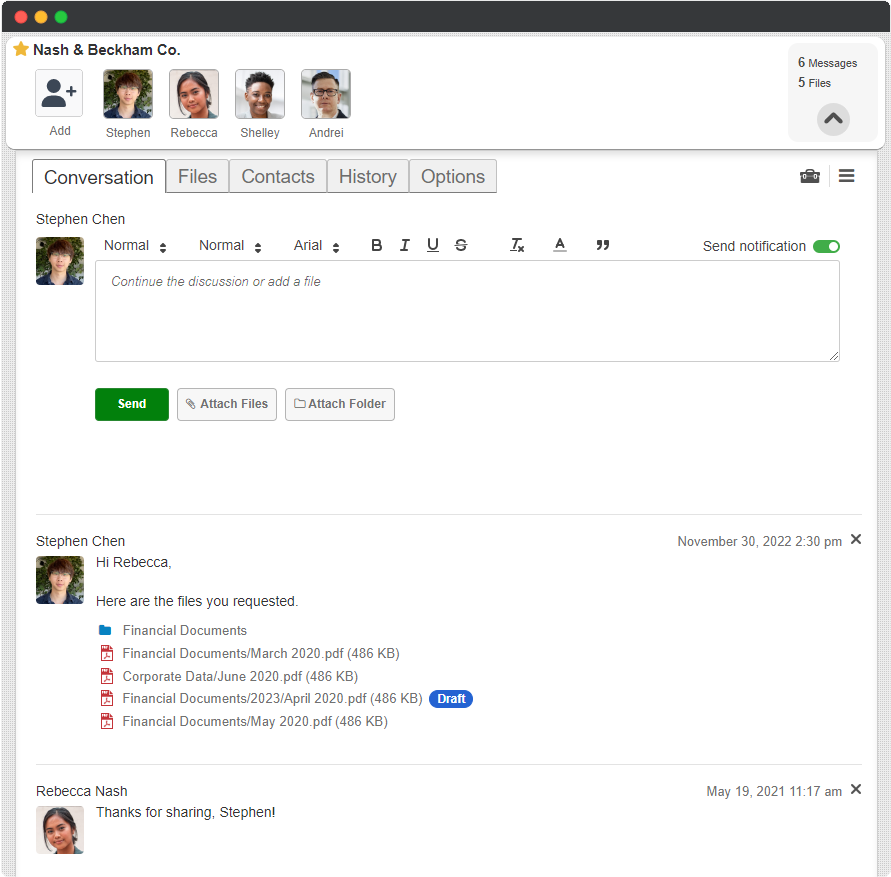 As easy to use as email for staff and clients
Lightning-fast upload speeds
Send files of any size. No storage limitations
Try TitanFile Free