It's our goal to meet the needs of our customers. To achieve this objective we're continuously working to develop our product to better serve our community. That's why we're introducing new product features. Here's a quick run down of what you can expect today.

Blind Carbon Channel (Bcc)
You might be familiar with the concept of Blind Carbon Copy, Bcc, from your email account. Our Bcc performs in much the same way. Channel owners can see all conversations and files being shared; however, Channel contacts can only see discussions between themselves and the owner. Wondering how the Bcc function can help your organization? With Bcc, Human Resource professionals have the ability to share documents that involve little discussion; perhaps company-wide benefits updates, with large groups of employees.
Bcc is available to Enterprise subscribers. Learn more about our packages and pricing.

Registrationless Access
Need a quick way to share files that don't require top-level security? Registrationless Access allows subscribers to add new contacts to a Channel without having them create a TitanFile account. When the new contact is added to your Registrationless Access Channel, simply send a message and the new contact will get an email with a link to the Channel. The recipient can follow the link to view the Channel contents. They will also be able to download any files in the Channel messages – all without needing to provide any additional information to TitanFile. Registrationless Access is great for sharing a document with a large group of people, for example, a quarterly update.
Registrationless Access is available to Enterprise subscribers. Request pricing.

Open Invitation
For Channels requiring less stringent rules on who has access to the conversation, Open Invitation is an easy way to allow all Channel participants to add and remove contacts at will. The only exception is the Channel owner, who cannot be removed by anyone. This increases the collaboration subscribers have come to expect from TitanFile, allowing all participants to play an active role in Channel management.
Open Invitation is available to all TitanFile subscribers. Learn more about our packages and pricing.

Safe Notifications
Conversations taking place within Channels often require the same level of security afforded to your important documents. Activity in Channels prompts email notifications to be delivered to Channel members. Safe Notifications allow you to alert Channel participants to activity within the Channel without compromising confidential details. All Safe Notification emails are scrubbed of confidential information, informing the user that a new message has been added to a Channel without revealing its contents.
Safe Notifications is available to all TitanFile subscribers. Learn more about our packages and pricing.
Image Preview Gallery
Want a sneak peek of an image uploaded to a Channel before you open it? Our new Image Preview Gallery provides you with a quick look at all images uploaded to your Channels. The image below displays the Image Preview Gallery in action. The function gives you the ability to preview the image before you download it to your computer, ensuring you're selecting the right file.
The Image Preview Gallery is available to all TitanFile subscribers. Learn more about our packages and pricing
These aren't the only features we launched today. Visit our blog post to learn more about the TitanFile Secure Deposit Box.
Interested in learning more about our new features? Contact us today.
Share files and messages

securely

with TitanFile!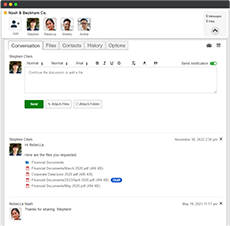 As easy to use as email for staff and clients
Lightning-fast upload speeds
Send files of any size. No storage limitations
Try TitanFile Free