Since its inception, email has become an important tool to use in our personal and professional lives. We rely on email as our preferred communication platform because it's easy to use and can be conveniently accessed across multiple different devices.
However, email certainly does have its flaws and we often pay a price for convenience.
One of the major flaws with email is encryption. The absence of email encryption means anyone who has access to your network or is capable of hacking into it can potentially view and obtain a copy of your messages. Tamim, a Software Engineer at TitanFile said, "It's similar to you sending a postcard to someone and the mailman being able to see all the information on the postcard."
Microsoft Outlook's Encryption Flaw
Microsoft Outlook, being a widely adopted email platform among businesses, comes with its own encryption feature but there's a catch!
On Microsoft's support site for Office, it mentions supporting S/MIME and Office 365 Message Encryption. Both these types of encryption only work if both the sender and the recipient's mailing applications support it. Otherwise, you can forget about it and you're forced to send email attachments without encryption.
But that's not a very good solution now, is it?
Sending Secure Attachments with TitanFile
Being aware of this issue, we decided to tackle it head-on by developing an add-in that integrates into the Outlook application. After installing the TitanFile Secure Send add-in for Outlook, you'll have the option to encrypt your email attachments so they're secure in-transit and at-rest, making it the most secure way to send files through email.
The best part is, you (the sender) and your recipient don't need to support the same type of encryption. You can send secure file attachments to anyone directly from Outlook.
How does it work?
With a subscription of TitanFile (get a free trial), you'll gain access to our custom Outlook plugin which adds a "Secure Send" button to Outlook's navigation ribbon.
Simply install our add-in, craft your email and attach files as you normally would, then hit the secure send button instead of Outlook's send button. The attachments you send will be encrypted with 256-bit encryption until the recipient accesses the files on their end.
Here are a few screenshots: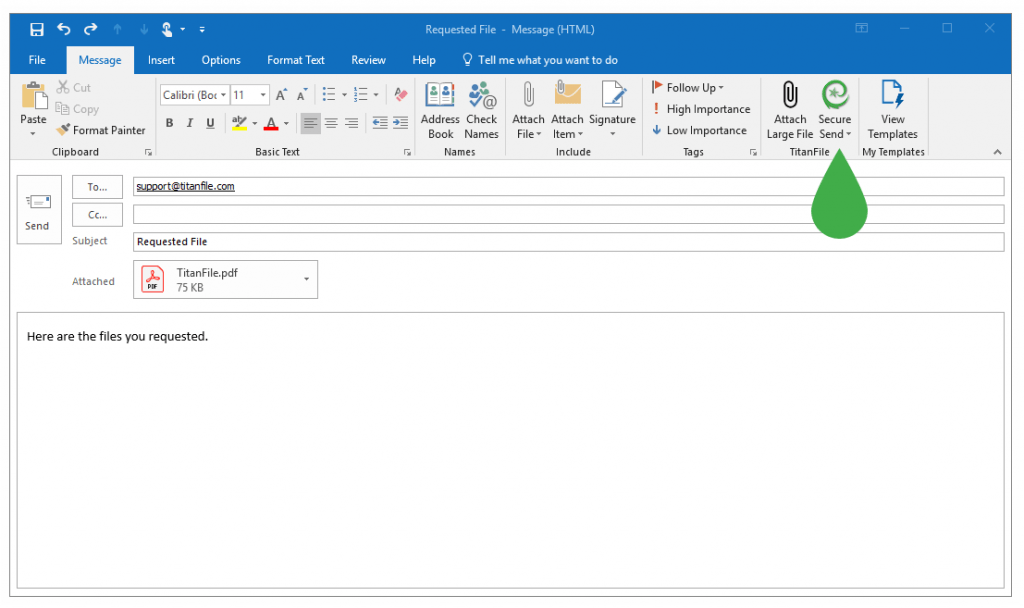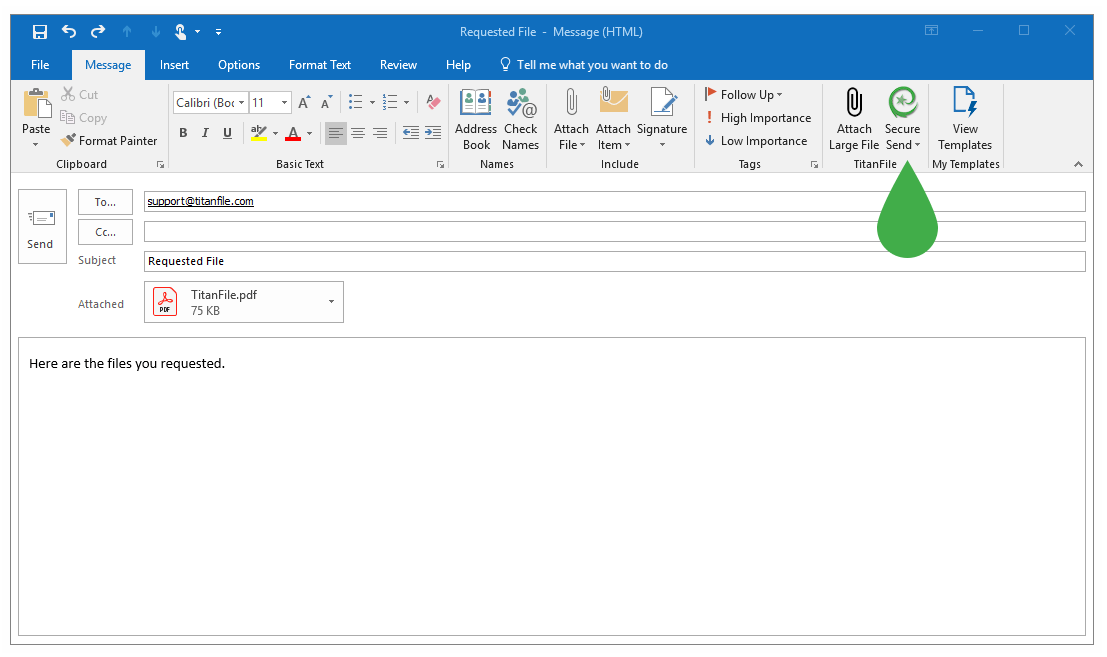 What the recipient will receive: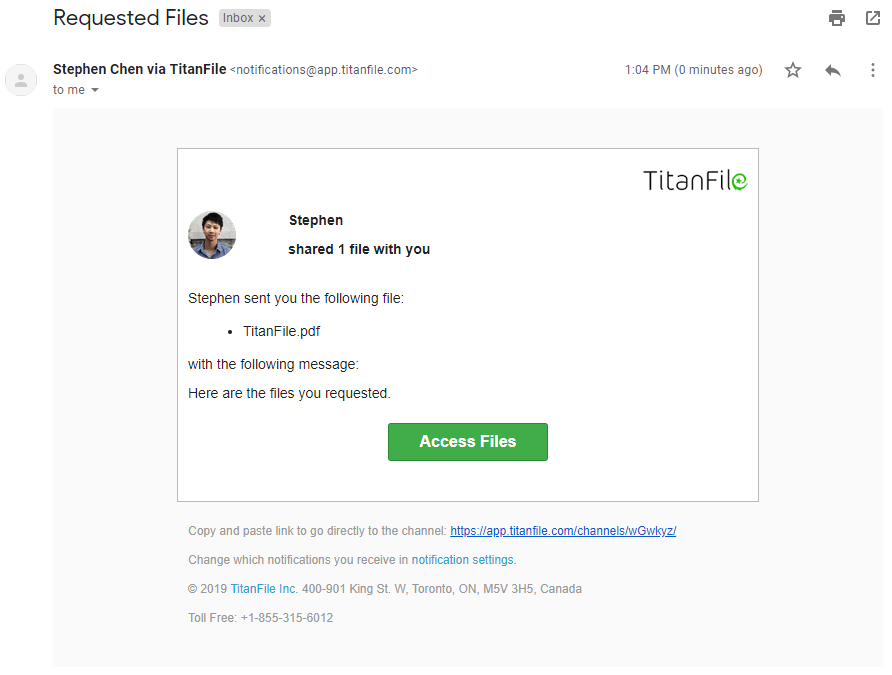 When the recipient clicks the "Access Files" button, they get redirected to the TitanFile app where they can create set a name and password for their account in a matter of seconds.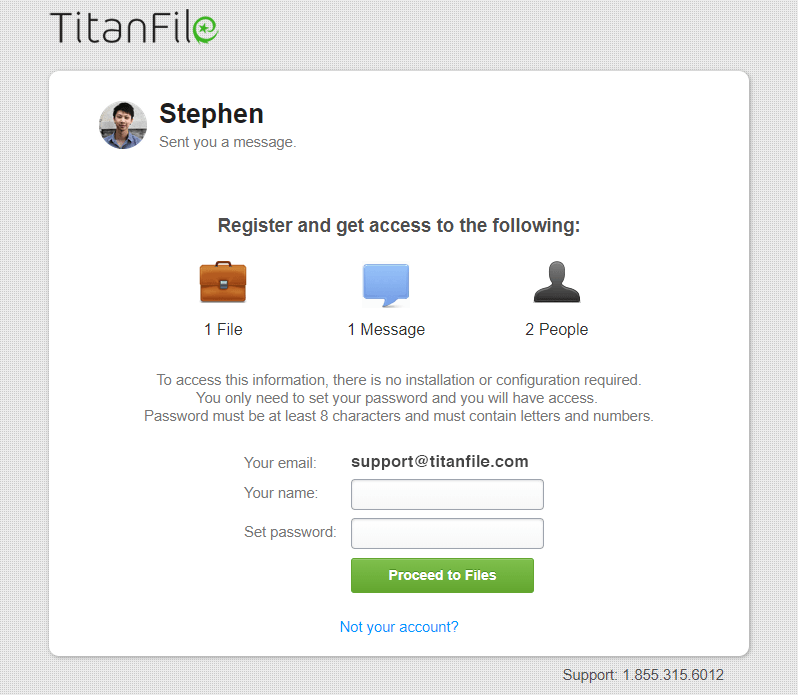 Within the TitanFile app, the recipient can download the files you sent and reply directly from the app.