If you've stumbled upon this article, it's likely that you have highly confidential information and you're looking to send it securely through Outlook. This tutorial will show you exactly how to do that.
But first, let's talk about why regular emails in Outlook aren't secure.
Microsoft Outlook's Encryption Problem
The best way to protect the information shared is by encrypting it. While Outlook has the option to send encrypted emails, there are several limitations that will prevent you from being able to send emails securely.
On Microsoft's support site regarding encrypting email messages, it mentions supporting S/MIME and Office 365 Message Encryption but there's a catch! These types of encryption only work if both the sender and the recipient's mailing applications support it. If not, you're forced to send email attachments without encryption and you can forget about keeping your attachments secure and confidential.
However, if an email is not encrypted, then hackers can potentially intercept the email and gain access to your confidential data. It's similar to you sending a postcard to someone and the mailman being able to see all the information written on it.
This lack of security becomes inconvenient and potentially dangerous for you if you're regularly working with confidential information that you can't afford to have leaked. Not to mention compliance issues with industry regulations which could result in significant fines and other legal problems.
It's better to encrypt Outlook emails so that your information is kept secure.
The Solution
To tackle the Outlook encryption issue, TitanFile created an Outlook™ add-in that enables you to send secure emails from Outlook.
TitanFile's Secure Send add-in for Outlook™ encrypts your emails and attachments so that they remain completely confidential while in transit and at rest. It will even enable you to bypass attachment size restrictions and send files larger than 20MB through Outlook™.
The best part is, that you (the sender) and your recipients don't need to support the same type of encryption. You can send encrypted emails to anyone directly from Outlook™.
It's the easiest and most secure way to send encrypted emails and attachments from Outlook™.
How to Send Secure Emails in Outlook:
1. Sign up for TitanFile to get access to the Secure Send add-in for Outlook™. Don't worry, no credit card is required!
2. Download TitanFile's Secure Send add-on from here.
3. After you install the Secure Send add-in, Secure Send will now appear in Outlook's navigation ribbon (see the screenshot below).

4. Craft your email message by adding an email, subject line, and message
5. Attach a small file (under 25MB) as you normally would or use the Attach Large File button to attach a large file.
6. Click the Secure Send button instead of Outlook's send button
and that's it! The entire email will be encrypted and its confidentiality of it will be preserved while it's in transit and at rest.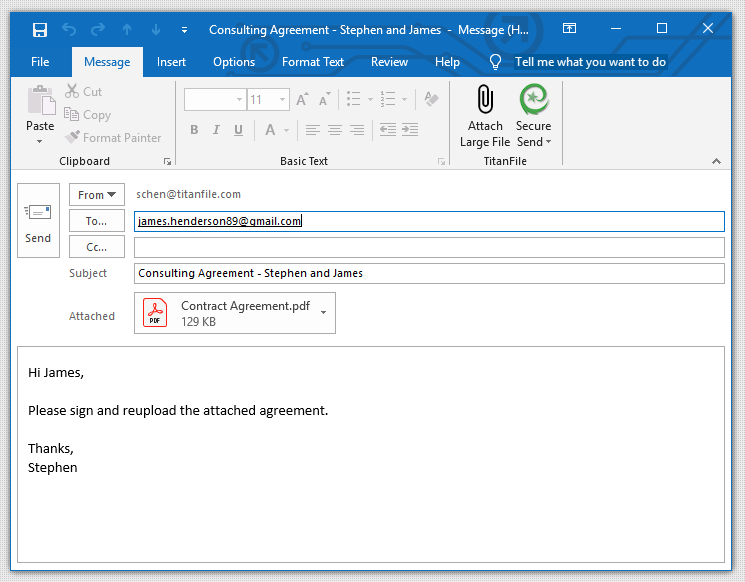 Your recipients will receive an email with a button to access the email message and files securely. See the screenshot below.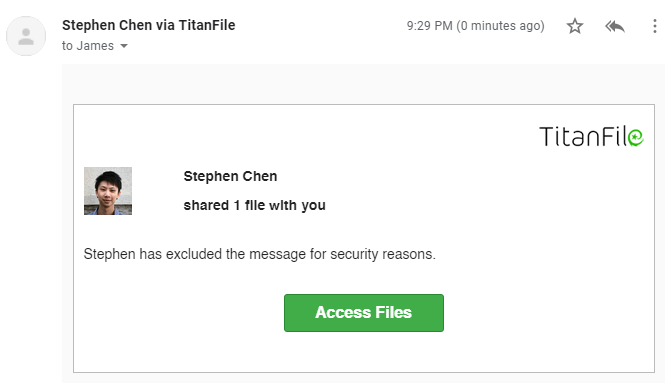 When your recipients click on the "Access Files" button, they'll get redirected to a page where they can set a name and password for an account to access the secured email attachments.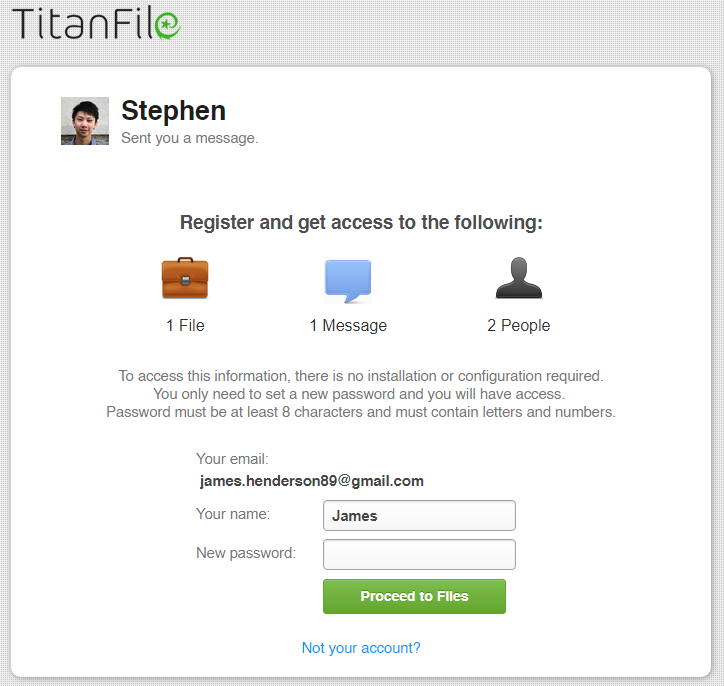 After creating their account, they will gain access to a secure two-way communication channel and have access to the files and messages you sent.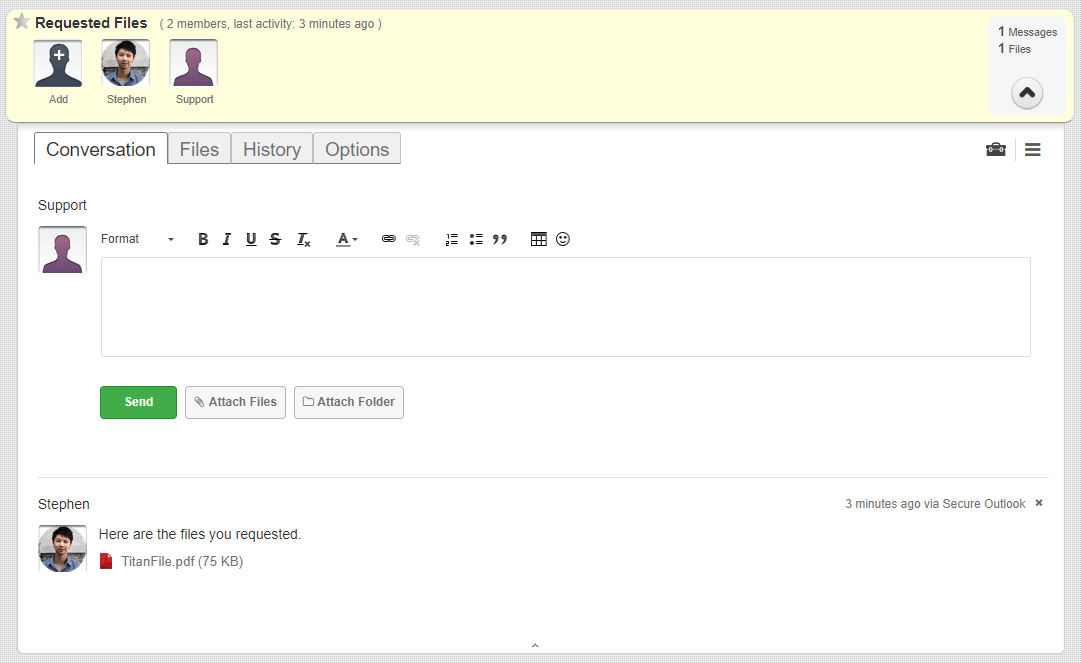 Recipients will also be able to send messages and files back to you.
It's as simple as that!
Get a free trial to start sending encrypted emails from Outlook today! No credit card is required.