We were pleased to attend the LegalSEC SUMMIT in Baltimore on June 8 and 9, hosted by the International Legal Technology Association (ILTA). The event focuses on security technology for the legal industry. This year, more than 300 CIOs and senior IT professionals from large North American law firms were in attendance.
Visitors to our booth shared the numerous challenges they face when communicating sensitive information and documents with clients and other legal professionals. Data breaches are a constant threat, yet the tools being made available to them internally are cumbersome, limiting, and inadequate for their needs. In frustration, many lawyers continue to burn CDs and use couriers instead!
This feedback reinforces the need for file sharing and communication software that is both truly secure and easy to use for all parties.
TitanFile addresses these issues through:
Simplified Communication: Attendees commented that our simple, yet comprehensive, Channels are a significant improvement over the file sending platforms they use. TitanFile's Channels are secure and collaborative workspaces, shared between invited users. As easy to use as email, users can send a message or add a file of any size to the discussion. Legal professionals can also seamlessly organize documents and conversations by client, case, or matter – giving them an intuitive platform to share confidential data.
Browser Based Client-Side Encryption: Unique to TitanFile, this feature enables a user to encrypt files before they're sent – directly from their browser. No special software to install or complicated steps to take. With client-side encryption (also referred to as zero-knowledge security), TitanFile neither accesses nor manages the browser's encryption keys. Users protect themselves and their correspondents from information security breaches, as only they hold the encryption keys to access the contents of their communications. Not even TitanFile can penetrate transmitted files.
Legal IT professionals also shared ideas about how we can further improve our secure file sharing software. Their input will certainly have a positive influence on TitanFile's development roadmap.
>> With client-side encryption and secure servers in Canada, the U.S., and Europe, TitanFile helps legal professionals comply with regulatory requirements by maintaining the privacy of shared and confidential files. Contact us today to learn more.
Like this post? You'll also enjoy:
Share files and messages

securely

with TitanFile!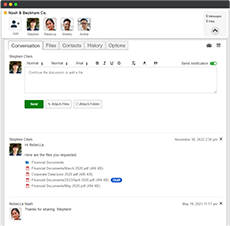 As easy to use as email for staff and clients
Lightning-fast upload speeds
Send files of any size. No storage limitations
Try TitanFile Free