Looking for a new cloud file sharing solution? You've come to the right place.
Technology has evolved drastically over the last couple of decades and file sharing is one category that has come a long way. Where we used to share information by shipping out portable devices such as DVDs, flash drives, and hard drives, we now have access to cloud storage solutions that enable businesses to share information over the cloud.
The problem now stands: which cloud file sharing software should you choose? When evaluating cloud file share solutions, it's important to consider which ones will meet the requirements of your business and clients. Depending on the type of business you are operating and the sensitivity of your files, you may need a solution that focuses more on security rather than app integrations.
Below, we've compiled a checklist of items that will help you find the best file cloud sharing for business:
1. Security and Compliance
If you're a photographer and just need a space to store all your photos, then security might not be a high concern for you. However, if you operate a business in highly regulated industries, such as legal, finance, and government- it may be an important factor. Secure file sharing with clients is important because the software you use ensures your client's confidential information is protected. When handling sensitive information, a data breach is the last thing you want to experience!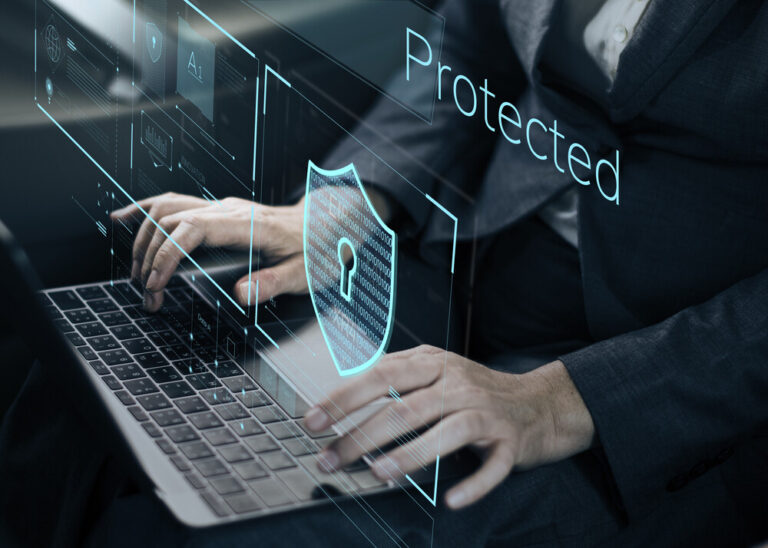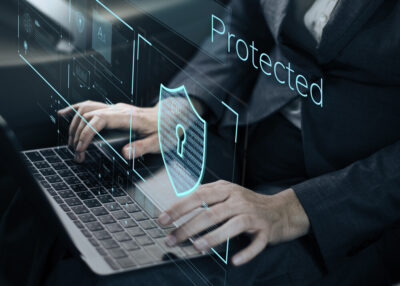 Make sure the provider supports up-to-date security practices such as:
SOC-2 Type II certification
Encryption in transit, at rest, and end-to-end
ISO-certified data centers
Multi-factor authentication (2FA)
Access controls
Audit logs
Not only will these security features keep your data safe, but they will also enable you to operate with peace of mind.
2. Simplicity and High User Adoption
Not everyone is accepting of new technology. Some staff may resist using tools they have never used before when they're comfortable with the tools they are already using. Additionally, not all employees are technologically adept and can face challenges utilizing tools that are not user-friendly. The result? A learning curve that leads to reduced productivity and employee dissatisfaction. This is why it's so important to adopt a cloud file sharing provider that is intuitive.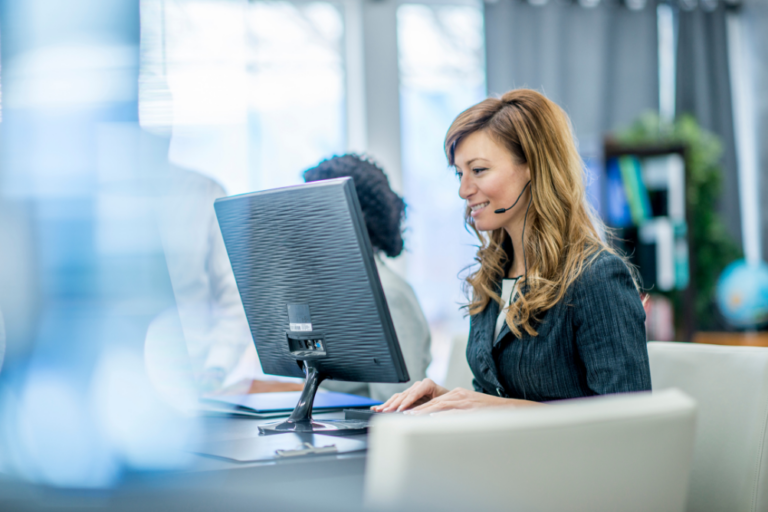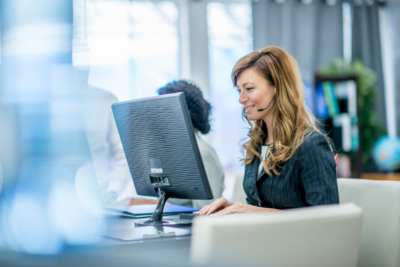 You want to find a solution that does not require a huge learning curve; something as easy to use as email. Many users appreciate TitanFile since it was developed with the user experience in mind. Am 200 law firms, like Marshall Dennehey, have achieved a 100% user adoption rate.
3. Unlimited File Size Transfer
Many businesses currently use email to transfer files due to its simplicity for users. However, simplicity comes at the cost of security and capabilities. Email is not encrypted which means documents traversing the internet are susceptible to breaches. Additionally, email file size limitations restrict users to only sending files up to 25 MB – which is nothing in the legal and finance industries.
These restrictions and lack of security demotivate internal and external collaborators from wanting to share files. There's truly nothing worse than compressing documents and needing to send them in multiple parts. To circumvent the inconvenience and get work done on time, it's possible employees may resort to legacy models, like USBs or in-person dropoffs. This defeats the point of security and continues to expose your firm to cyber threats.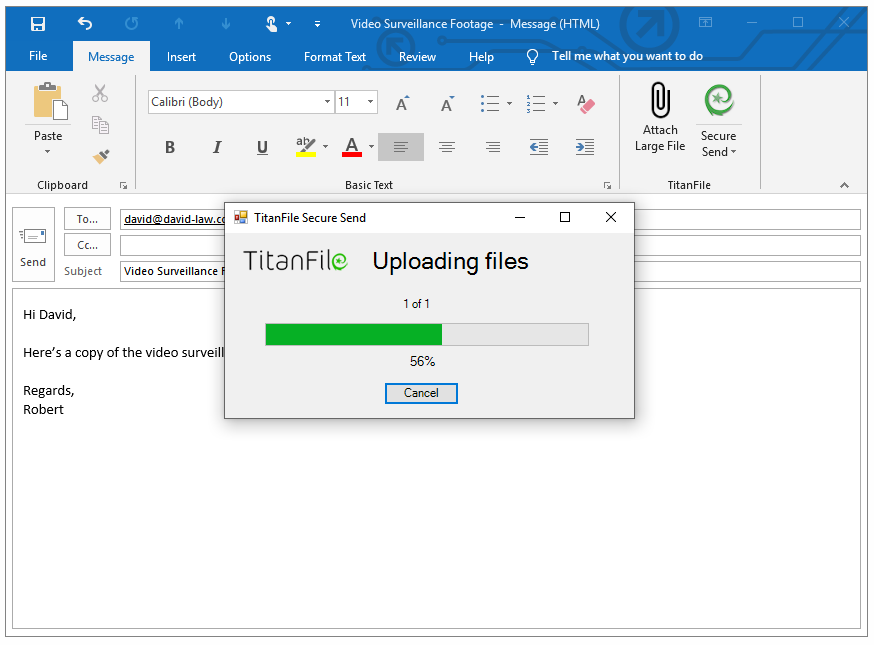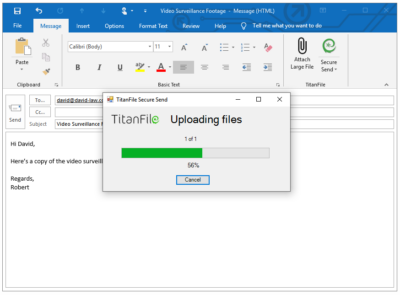 The key benefit of using cloud-based file sharing software, like TitanFile, is the lack of limitations. Unlimited file size transfer allows documents of any size and volume to speedily and securely reach your client's inbox.
4. Mobile Compatibility
As we know, staff are constantly working in and outside of the office nowadays. Hybrid models have taken over the workforce.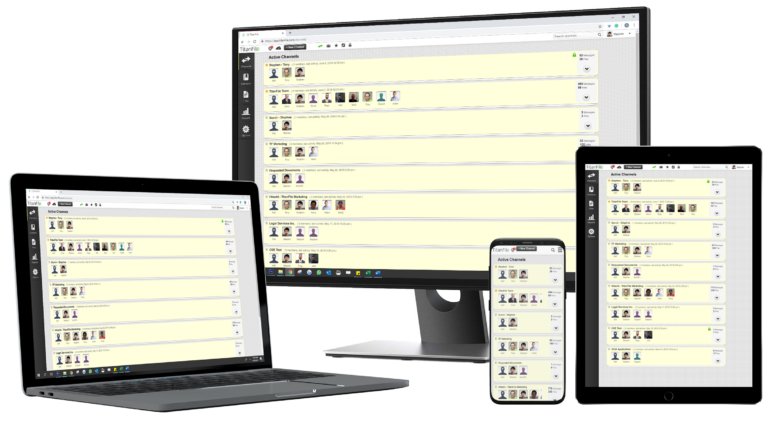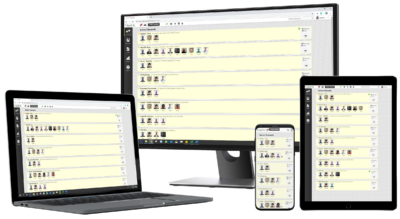 To accommodate, your secure cloud file sharing solution should be accessible from anywhere, at any time. Whether it's from a desktop, tablet or mobile phone – a solution that doesn't require software installations will enable staff to be productive from anywhere.
5. Secure Upload Forms
Not only do you want to provide a good experience for your staff, but you also want to make it easy for people outside of your workplace to upload files to you.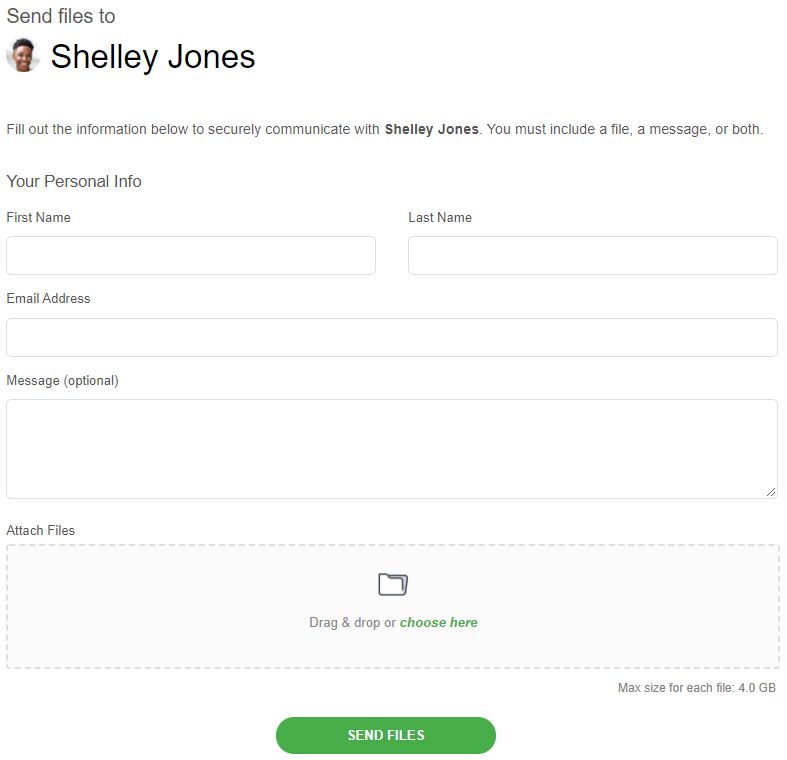 A secure upload form will do just that. Rather than requiring external collaborators to create an account, all they will need is a name and email address! It works by sharing a unique link with clients that redirects them to your secure form. Once your client fills out their information (name and email address), they can upload files and click send. Files will be uploaded automatically to your cloud-based solution.
Secure upload forms are the easiest ad-hoc file sharing method for businesses to receive information from clients and other outside parties. TitanFile's Secure Submit feature offers this luxury at no additional cost.
What is TitanFile?
TitanFile is a cloud-based, file-sharing solution that combines state-of-the-art security features with an easy-to-use interface. The platform enables staff to securely exchange confidential documents and files with clients and colleagues with peace of mind.
Interested in reviewing other solutions? We've got a comprehensive breakdown for you.
Ready to start securely sharing files? Try a free 15-day trial to determine if TitanFile is the right fit for your business needs.