In 2020, many organizations were impacted by the COVID-19 pandemic. As employees transitioned to working from home, they no longer had access to the same level of security or support that they would have at their workplaces. They were also not properly equipped with the right tools to effectively collaborate with their clients.
To help support these organizations, our team invested heavily in the security and product development of TitanFile. This led to the release of several new features and other product updates that enabled employees to work securely from home and continue servicing their clients.
Below, you'll find a curation of all of the features and updates we released in 2020.
New Features
DocuSign integration ✒️
Request electronic signatures within TitanFile. Signed documents are automatically re-uploaded to the secure platform. Learn more.
---
Secure Submit (formerly Secure Deposit Box) 📥
Secure Submit is a secure web form that provides a quick, easy, and secure way for your clients and other external parties to share files directly with your staff. Learn more.
---
Mobile applications 📱
Download TitanFile on your iOS or Android devices! Have access to TitanFile from anywhere.
Get TitanFile for iOS
Get TitanFile for Android
---
Secure Send add-in for Outlook 📧
Secure Send now has improved support for single sign-on (SSO) and is capable of integrating with metadata scrubbers. Learn more.
---
Shared Mailboxes 📬
Shared Mailboxes enable you to collaborate with your colleagues in shared TitanFile accounts. Easily switch between your personal account and shared accounts. Learn more.
---
Send Notifications Toggle 🔔
Before you send a TitanFile message, you can choose whether or not to send email notifications to all contacts in the channel by toggling the Send notification toggle ON/OFF. By default, the toggle will be set to ON (green). Clicking it will toggle it OFF (grey). Learn more.
---
Keyboard Shortcut for "Send" ⌨️
Just like in email, you send TitanFile messages by pressing CTRL + Enter (Windows) or CMD + Enter (Mac).
Security Updates
Passing our SOC-2 Audit ✅
TitanFile has successfully passed its SOC-2 audit which is external validation that TitanFile is a robust platform that exceeds industry standards in terms of security, availability, and confidentiality. Learn more.
---
New Two-factor Authentication Options 🔒
We've expanded our two-factor authentication methods. You can now authenticate into your TitanFile account via authenticator apps, and Duo Security. Learn more.
---
Channel Passwords 🔑
Password-protect your channels for an extra layer of security. Recipients will need to enter a password to gain access to a password-protected channel. Learn more.
---
Document Watermarking 💧
Watermark documents directly in TitanFile to prevent confidential files from being copied or used without your permission. Learn more.
Compliance Updates
Web Accessibility Compliance ✅
TitanFile is now fully compliant with the Accessibility for Ontarians with Disabilities Act (AODA) and the Web Content Accessibility Guidelines (WCAG) 2.0 Level AA standard. Learn more.
Share files and messages

securely

with TitanFile!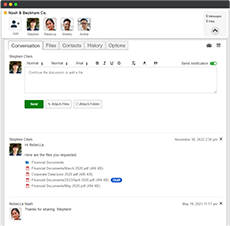 As easy to use as email for staff and clients
Lightning-fast upload speeds
Send files of any size. No storage limitations
Try TitanFile Free