When you're in the market for a secure file-sharing solution, there are many things you need to consider. One of the most important factors is the client experience.
Your clients expect an easy and secure way to collaborate with their service providers.
Over the years, our clients have received a lot of positive feedback from their clients regarding TitanFile. We've decided to compile this feedback to show you why your clients will love TitanFile as well.
1. Intuitive
Unlike other software, TitanFile was built with the user experience in mind. Our user interface was designed to be easily navigable and to lessen the reliance on IT support so that clients can spend more time working on the things that matter. When you're forcing your clients to use a solution they've never used before, they'll usually require some hand-holding (or a lot!) — but not with TitanFile.
TitanFile is as easy to use as email and does not require any onboarding. Even if a client has never used TitanFile before, they can still easily access files and messages you send them – as well as exchange them. There are no downloads or software installations required, and it takes clients less than 60 seconds to set up an account and gain access.
All they have to do is click on the "Access Files" button from the email notification they receive, create a password, and they're ready to start collaborating.

2. Gives Peace of Mind
Since the onset of the COVID-19 pandemic, cybersecurity threats have been at an all-time high. The majority of companies had to re-evaluate their business models and 16% went completely remote globally. The movement of confidential information onto the internet poses a great risk to data security and clients are concerned about the privacy of their information more than ever. They're a lot more hesitant to share files with you if you can't guarantee the safety of their data.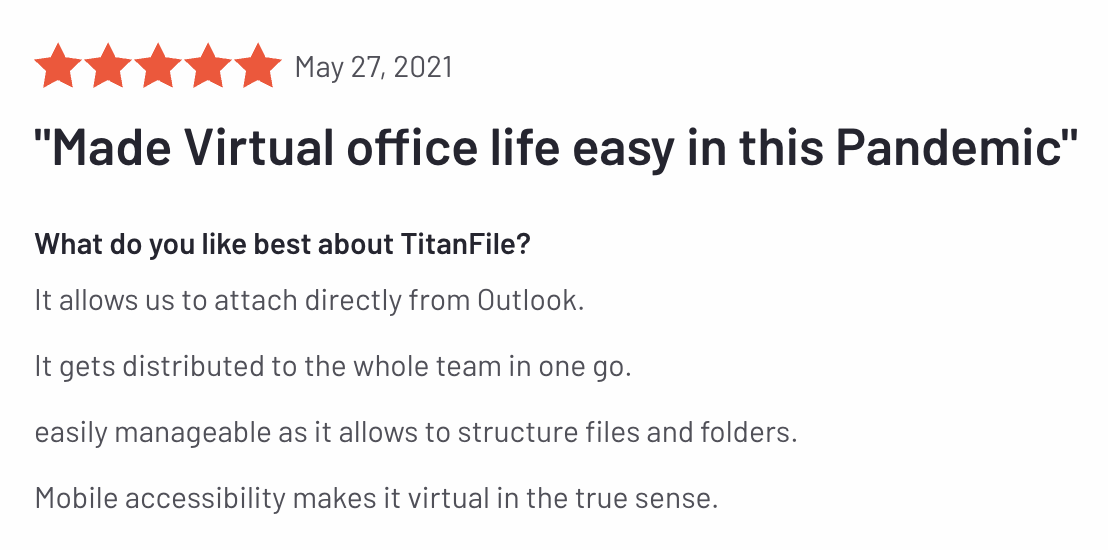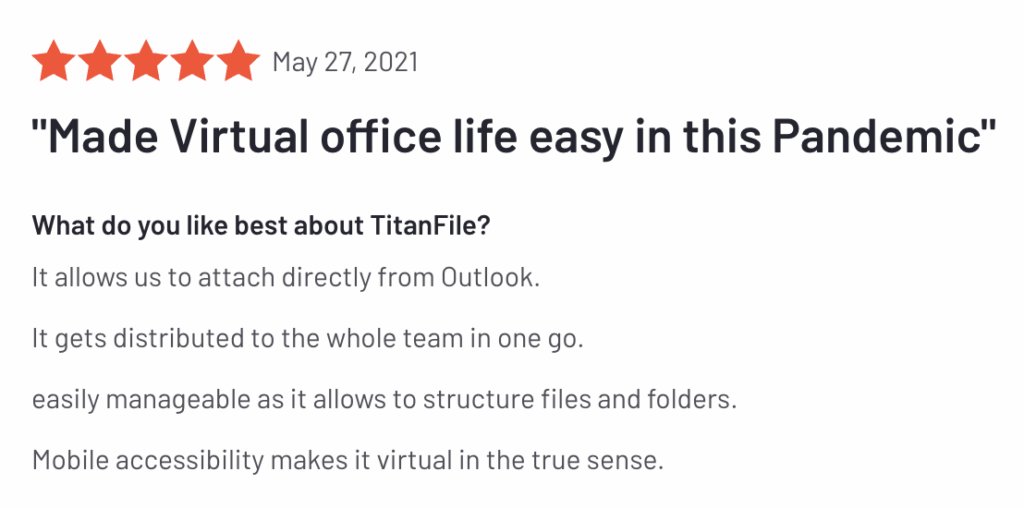 TitanFile addresses this concern by automatically encrypting all communication that occurs within the platform and preventing access by unauthorized third parties or persons. Data is encrypted in transit, at rest, and end-to-end using 251-bit AES encryption. Other features such as two-factor authentication, customer-managed encryption keys, and custom data retention policies make client information even more secure! See TitanFile's security overview for more details.
3. Data Residency Options
Whether clients would like their data to be stored locally with on-premise servers or stored via the secure cloud; TitanFile guarantees both options. With other file-sharing solution providers, you're often not given a choice of where your data resides. When data is stored outside of your country, the information is subject to another jurisdiction which may raise security concerns for your clients.
TitanFile gives clients a choice of data residency in the United States, Canada, or Europe. Additionally, all client information is automatically compliant with SOC 2 Type II, HIPAA, GDPR, and PIPEDA regulations to ensure data is protected by the standards of regional laws.
4. Seamless Two-Way Collaboration
There are countless scenarios where you will need to do more than just send files to a client. What if they need to send a signed document back? How will you communicate that to them?  Many file-sharing solutions on the market were developed for ad-hoc file sharing and not two-way collaboration. For effective collaboration, it's important to have a file-sharing solution that allows your clients to respond and share files securely with you as well.


With TitanFile, you can exchange an unlimited number of files and messages with your clients all in one centralized, secure workspace.
5. Easy Uploads
TitanFile's Secure Submit feature makes it easy for clients to upload files to you or your colleagues. Simply, provide clients with a custom link and all they will need to do is fill out a secure form, attach files, and click send! TitanFile also has some of the fastest upload speeds on the market, giving your clients the easiest, fastest, and most secure file-sharing experience. It's really that easy!

6. Fastest Uploads Speeds
Upload speeds are a critical factor in productivity. Slow upload speeds can lead to feelings of frustration, irritability, and an overall waste of time. Why sit around for hours waiting for files to finish uploading when that time can be spent on tasks that matter? When uploading large documents, it's important to use a system that can quickly and easily get them uploaded and sent.
TitanFile's blazing-fast upload speeds allow gigabytes worth of files to be uploaded within minutes. If clients are sending you large files, they can expect files to be uploaded quickly, and securely.
*TitanFile's upload speeds are so fast that it was nearly impossible to screengrab this photo of the upload progress without completing it.

7. Use TitanFile Anytime, Anywhere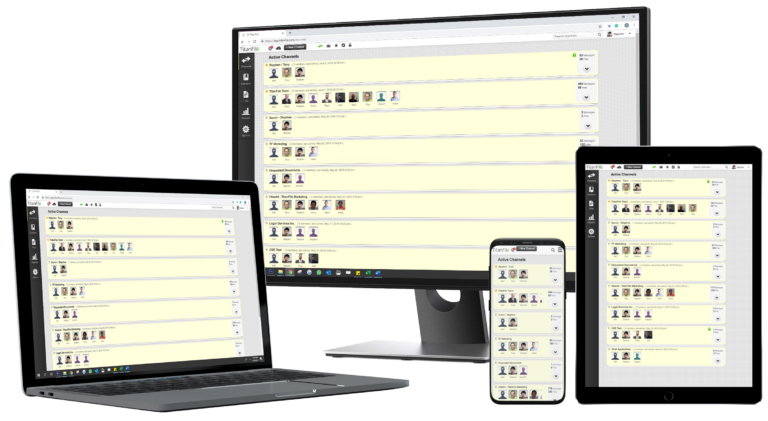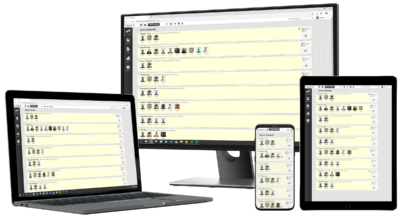 Much like yourself, your clients are always on the go. It's important that they have convenient access to a secure way to collaborate with you when they're not at home or in their office.
TitanFile is a responsive web application, which means your clients have easy access to TitanFile from any device with a web browser. This includes desktop computers, laptops, tablets, and smartphones.
8. Access Files and Messages in One Centralized Location
Most file-sharing solutions only allow clients to send files which means correspondence is managed on another platform. For clients with hundreds, even thousands, of files to keep track of, it can become very difficult to keep organized. It's 2022, you need software that allows you to manage everything in one secure location.


TitanFile lets you keep files and messages organized in a secure workspace. Its clean and simple interface makes it easy for you and your clients to easily find files or messages when needed.
Intrigued?
Are you interested in giving TitanFile a try?
Sign up for a free 15-day trial, today.